Emerson Update 10/31/22
Greeting Emerson Famillies!
This is going to be a MEGA-week! We have so many wonderful events coming up.
HALLOWEEN -Please take another look at our guidlines. Students in inappropriate costumes will be asked to call home for a change of clothes. Please be mindful of our neighbors when parking for and exiting the parades.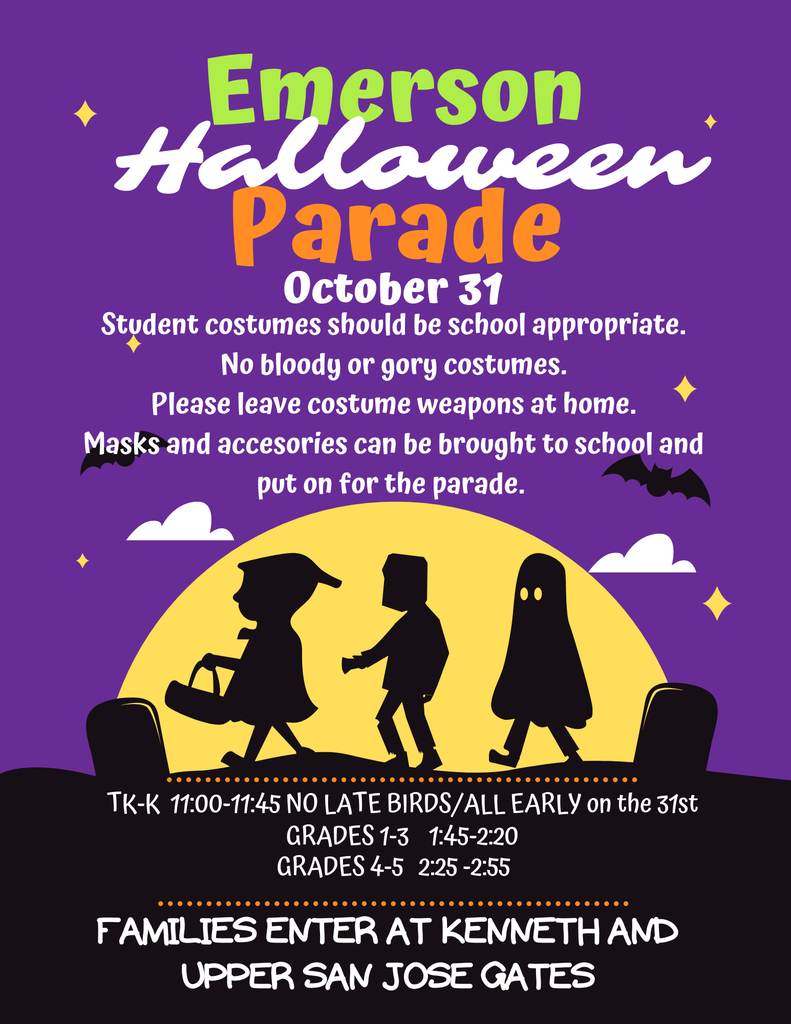 ASSEMBLIES
We will be having science assembly sponsored by our PTA on Tuesday and Wednesday Nov. 1 and 2. Bubble Mania:The Science of Bubbles for grades TK-1 and Mad Science for Grade 2-5, will be here. Please make sure to ask your kiddos what exciting science they learned all about.
Picture Make-Ups
Picture Make-Ups will be November 1st.
Emerson DEI Day of the Dead Ofrenda
We will have an amazing opportunity to participate in viewing and adding to an Emerson Ofrenda between October 31st and November 3. Students will be able to visit during the school day with their classrooms. Families can come visit together on Wednesday, October 3 from 3-6pm.
STARSAPALOOZA
Ok Emerson, are you READY TO ROCK?! We are putting together an awesome party THIS Saturday, November 5th from Noon-5pm. Come see our Stars in their very own rock bands and maybe some of your favorite teachers as well. This is a great opportunity to raise money for our school and have a great time. Please this use this link the buy pre-sale tickets and be entered in an opportunity drawing for Jingle Ball tickets!
Red Ribbon Week Clean-Up
Our wonderful community event, Red Ribbon Week, which included tying ribbons to our gate has in fact caused litter throughout our neighborhood. We had no intention of creating a problem for our neighbors or environment. We hope that you might take a few extra minutes during drop-off or pick-up tomorrow to help us clean up some of the ribbons that have come loose. Thank you so much; we will also be working with our Student Council to correct this well-intentioned error and reflect on changes to future events.
Have a SPOOKtacular week!
Mrs. AJ